Jose Cardenal: A beloved ex-Cub's unlikely road to the White House and rock star status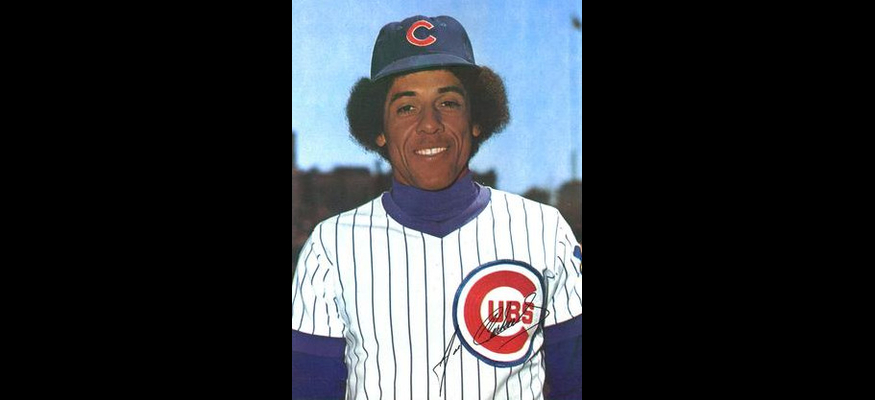 An exclusive chapter from the new expanded 2019 edition of Cubsessions: Famous Fans of Chicago's North Side Baseball Team and Their Stories of Pain, Loyalty, Hope and (Finally) Joy
The Cubs are more than just a baseball team to those who root for them. From the heartaches of 1969 and 2003 to the pure joy of 2016, emotional ties bind fans of Chicago's North Side ball club. Throughout the 2017 season, writers and die-hard Cub fans Becky Sarwate and Randy Richardson interviewed a diverse collection of some of the team's most famous fans: actors, comedians, broadcasters, musicians, restauranteurs, athletes, journalists. Even those who are ubiquitous precisely because of their fandom. Cubsessions tells the story of divergent life paths – the roads taken, the failures experienced, and the successes reached – and how those paths all come together for a collective passion. Bob Newhart, Pat Brickhouse, Dennis Franz, Joe Mantegna, Scott Turow, Bill Kurtis, and many others, share just what it means to bleed Cubbie blue. The authors have partnered with and are donating 100 percent of their proceeds from book sales to Chicago Baseball Cancer Charities (CBCC) and Club 400.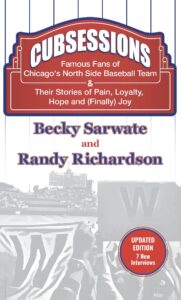 The new expanded 2019 edition has just been released and includes 7 new interviews. Wrigleyville Nation is sharing an exclusive new chapter from the book featuring an interview with one of the most beloved Cubs of all-time, Jose Cardenal.
Order your copy of the new expanded edition of Cubsessions: Famous Fans of Chicago's North Side Baseball Team through Eckhartz Press.
José Rosario Domec Cardenal always dreamt that one day he'd play for his favorite Major League Baseball team, the Chicago Cubs. "That was the team I wanted to play for since I was a little kid," the 77-year-old said in a phone interview.
A lot of kids have that dream but only a handful see it come true. Imagine the odds of realizing it if you were growing up in Cuba. Yet Cardenal did just that. Though the route he took to get there was anything but direct or easy.
The youngest of five, Cardenal was born in Matanzas, Cuba, on October 7, 1943, to a carpenter father and homemaker mother. He is the second cousin of former Athletics shortstop Bert Campaneris, and they grew up a few blocks apart in Matanzas; they would often play baseball together.
Cardenal was only 16 when he left Cuba on March 23, 1960, to come play baseball in the United States, one of the last Cuban baseball players to leave that island before the Fidel Castro regime clamped down following the Cuban Revolution in 1959. According to an article written for the Society for American Baseball Research, Cardenal spent the $200 signing bonus he received from the San Francisco Giants to purchase a suit, a pair of shoes, and a new baseball glove.
The outfielder spent most of the next four years in the Giants' minor league system. Even though he seemed ready for the big leagues by 1964, San Francisco didn't have a place for him with a strong outfield that featured future Hall of Famer Willie Mays and two of the Alou brothers, Jesus and Matty. The following season, he was sent to Los Angeles, where he played for the Angels for the next three years. Then he bounced around from Cleveland to St. Louis to Milwaukee before finally landing, in 1972, in the place he wanted to be.
"For me Wrigley Field was like a paradise," Cardenal said. "This was the first time I saw ivy around the outfield, and that was beautiful. Then to see people in the ballpark just screaming to you from the stands, it was great, especially when we played St. Louis. When we played St. Louis, that was our World Series."
What he most enjoyed about being in Chicago was that, at the time, all the games were played during the day. "It was great to play in Chi-Town," Cardenal said. "The thing that I really enjoyed is that by five you were home because there were no lights. After the game was over, you'd just go home."
In his first three seasons (1972-74) as a Cub, the right-handed hitting outfielder had arguably his three most productive years in the Major Leagues, hitting .290 or better each season. His best year roaming the Cubs outfield was 1973 when he led the team in hitting (.303), doubles (33), and steals (19) and was named the Chicago Player of the Year by the city's baseball writers.
Known for the Afro haircut that stuck out of the sides of his cap, basket catches, and unusual injuries (he refused to play the opener in 1974 claiming that he was injured because the eyelids of one eye were stuck open), Cardenal became a fan favorite.
"I used to sign autographs to anybody and take pictures," said Cardenal, explaining partly what made him so popular.
As a player, Cardenal compared himself to the Cubs' current star, Javier Baez. "I used to be like Baez," Cardenal said. "Baez reminds me of myself when I was playing. He's a very flashy ballplayer and he can do anything to win the game. That's the kind of ballplayer I was. The only difference is that Baez has more power than me – and he makes a lot more money."
What is perhaps most telling is that Cardenal's popularity has lasted and made him into somewhat of a Cubs' version of Forrest Gump.
After the Cubs won the World Series in 2016, President Obama invited the championship team to the White House for a ceremony honoring their historic title. Cardenal was surprised to learn that he too was on the guest list. He was at the annual Cubs Convention in Chicago when the team's traveling secretary approached him with the news.
"He said to me, 'Jose, tomorrow we're going to the White House in Washington to meet the president,' and he said, 'Are you coming with us?' I said, 'Why, do I have to go? You people won the trophy. I said, No, no, no, no, no.
"He said, 'Jose, the lady requests you.' I said, 'What lady?' He said, 'The First Lady, Michelle Obama, she wants you to be there because you're her idol.'
"So, I said, 'I guess I have no choice. I have to go.' The next day I had the opportunity to meet [the First Lady], and she to came, and she hugged me, and she told me the whole story that when she was a kid and I was her idol. The Cubs players looked at me and said, 'Jose, you the man.' I said, 'I don't know if I'm the man, but I'm the lady's idol,' and she became a good friend to me."
At a private reception, President Obama, whose allegiances to the South Side White Sox are well-known, explained how his wife grew up a Cubs fan and that her favorite player was Cardenal. "Back then he had a big Afro, and she was describing how she would try to wear her hat over her Afro the same way Jose did," the president said.
Added the president: "Jose Cardenal, who got the longest hug from the First Lady we've ever seen – her favorite player of all time – you're the MVP today."
Cardenal has also gotten the rock star treatment, developing a close friendship with Pearl Jam frontman Eddie Vedder. As a teen, Vedder, who grew up in Evanston a die-hard Cubs fan, would hang out after the games and talk with Cardenal. The two met again in 2002, when Cardenal was a coach with the Cincinnati Reds, who were at Wrigley for a game. A batboy approached Cardenal and told him that Vedder wanted to meet him. The band was standing behind home plate. Cardenal didn't even know who Vedder was and mistakenly went up to the band's bass player, who laughed and pointed Cardenal to Vedder.
"He came to me and he hugged me. He told me, 'Do you remember that guy who used to be waiting for you and blah, blah, blah…?' I said, 'No.' He said, 'Well it was me.' Since that day, we just got along. He's my real hero now. He told me you never know who you're dealing with. He was a kid and that kid turned out to be a great musician."
Vedder has worn Cardenal's No. 1 jersey when his band has played at Wrigley Field, sung "Take Me Out to the Ballgame" with Cardenal during the seventh-inning stretch, and brought the former Cub on the stage with him at times.
Said Cardenal: "You never know who you're going to meet, so you treat everybody with respect and love and then that's what you're going to get back. That's exactly what happened [with Vedder]."
Cardenal played six of his 18 seasons in the Major Leagues with the Cubs but never even made it to the postseason with them, let alone the World Series. So, when the team finally won it all in 2016, he said, "I got a tear in my eye. That's what I wanted to do for the Cubs when I was a player, but I never had the opportunity. But I feel right now that I'm very happy and glad that finally, after so many years, they made it because I was told for so many years to wait until next year, wait until next year…finally after so many years my dream came true. It was a great feeling, a great feeling."